A Painting Challenge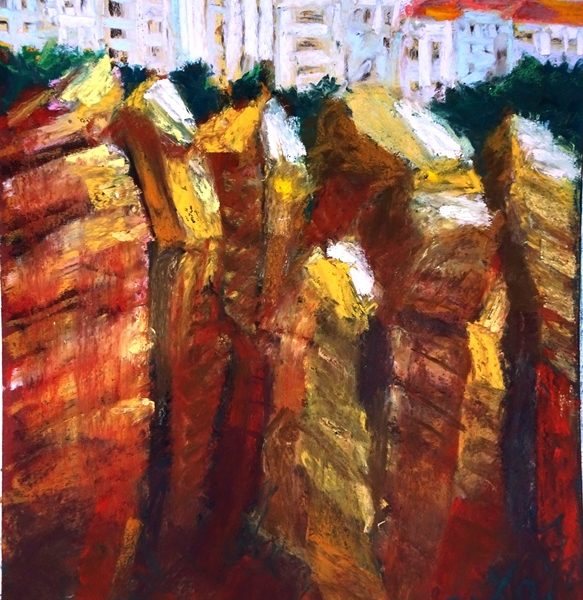 My paintings are more expressive than realistic, since I'm most interested in showing how it felt to be there. Enhanced reality is another way to describe it. I use more intense colors in an almost Fauvist way to help the viewer understand whatever it was that stopped me in my tracks and made me go "wow!"
That makes my new series of Spain paintings especially challenging, because I do want people to understand what they're looking at, even if the painting isn't entirely realistic. The famous gorge at Ronda, one of the "white towns" pasted to the hills of southern Spain, is a case in point. The town was easy to defend for centuries, because no invader could easily come up those steep cliffs or over the one bridge.
However, the gorge is so dramatic and unusual that it's hard to understand what you're seeing even if you are standing in front of it. Trying to portray it – as I'm doing with two paintings right now – is much more difficult than I expected. The stone walls of the gorge are striated, yet showing the stripes would suggest shadows that aren't there. There are plants growing up and through the deep creases in the rock, but it's still all one solid wall. As you may have noticed in my January post of this painting in progress, "it looks like separate palm trees, and it's really one cliff." So said my husband – well, I did ask his opinion. LOL
As you can see, I fixed that problem. The small town atop the gorge and the endless blue sky are dwarfed by the immense cliffs. Ronda's "new" bridge, dating from 1793, allowed me to take reference photos for this series of paintings. Here's the first – I hope you enjoy it.