Back in Bloom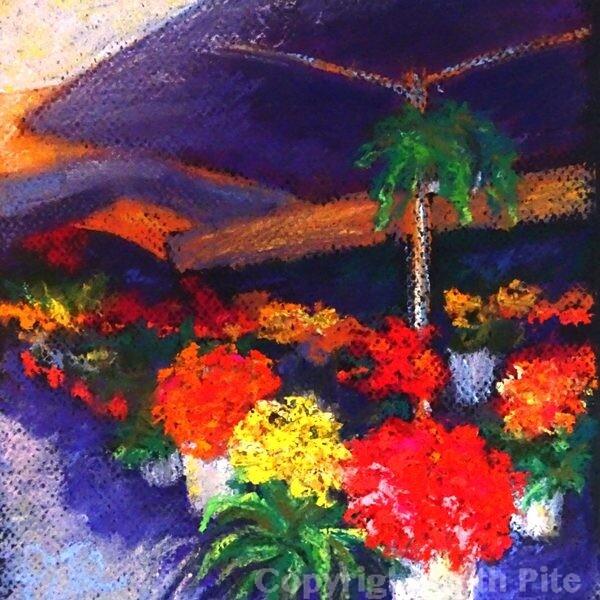 As we all try to "normalize" life in this partially-post-pandemic world, some adjustments are easier than others. I still find it difficult to trust strangers to do the right thing. Since they can't tell if they're carrying the virus, I can't tell who's vaccinated, and nobody can control sneezes with all this pollen around, I've been sticking with masks inside public places.

Which made the past two weeks memorable, as I had to wash out six masks. That is a record amount of socializing after a year and a half of semi-isolation. It included a museum, craft store, library, clothing boutique, art gallery, birthday party dinner in a restaurant, fashion trunk show, and anniversary party cruise on the CT River. Also a Pilates studio, fitness center and two chocolate shops. (balance? LOL) Life is back in bloom again, so I thought I'd share this new painting.

The flower markets in Europe are simply bursting with tantalizing colors and scents. They are often part of street fairs or weekend markets.  Nobody can be unhappy walking through, or even by, them. I can't remember if the photo reference for this one was Rome or Nice, but the inspiration for the painting arrived in a roundabout way.  A while back, my framer gave me some frames that were being discontinued, since they are the type of colorful, slim, wood frames I like for my paintings.
One particular frame was a gorgeous deep purple, but smaller than my usual. It needed a compact scene, and I finally decided to paint this flower market. The purples in the deep shadows and on the underside of the umbrellas work well with the frame. I hope you enjoy this burst of happiness.  And if you miss traveling, you'll enjoy my exhibit of travel paintings and can join us for a reception in charming Chester, CT, on Friday, July 9, from 5:30-7:30!