Back to Barcelona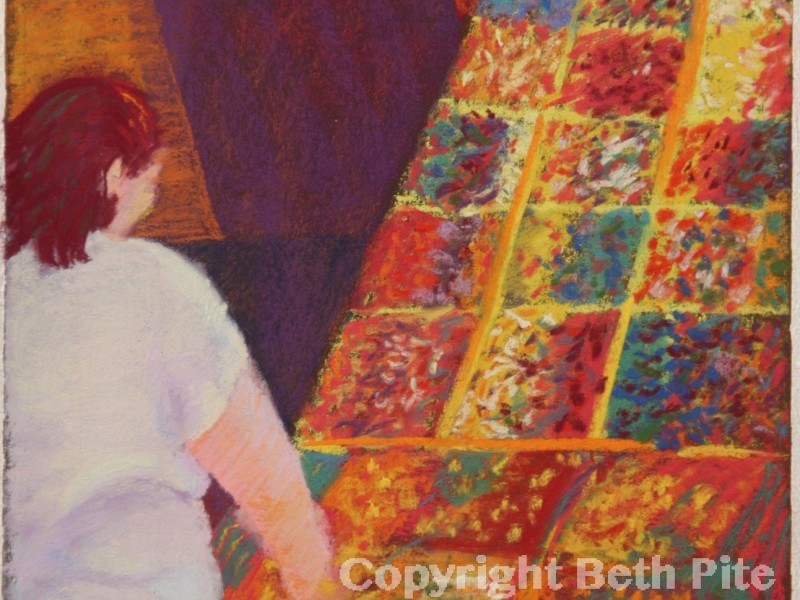 Last week's vacation cruising Canal du Midi in southern France started with two days in Barcelona before taking a train to find our boat. That proved challenging, given the rail strike in France – more on that in blogs to come. Since we spent our honeymoon in Spain, we were excited about getting back to Barcelona.
Its architecture is astonishing – modernist marvels of imagination that defy gravity and boredom equally. Its food is also memorable, with tapas cafes on every corner in the fascinating Bari Gotic, the old city. One of Europe's largest, most diverse markets, pictured here, is on La Rambla, the pedestrian boulevard full of vendors, mimes and crowds. Following La Rambla down to Barcelona's very entertaining port is a blast. Several paintings came out of our first trip to Spain, and I am eager to paint more after this adventure.
Of course, the France portion of the trip was amazing. Any day that includes fresh baguettes or pain au chocolate can't be all bad, no matter how hard we had to work to get the boat through numerous locks on the 300 year old canal! My recent paintings of Paris, Nice and Provence will soon be joined by scenes of the charming villages we encountered during our adventure.
Stay tuned for another blog about the canal trip, its scenery and its challenges. Meanwhile, I have hundreds of photos to sort through as source material for a new series of paintings. It seems only right that my paintings of France and Spain be shown together soon. In the meantime, you can see many of them on my website's travel portfolio page and in my exhibit, which will open on June 23 at Stackpole Moore Tryon Tuesdays in Hartford. Join us between 5:00 and 7:30 for the reception!