FAQs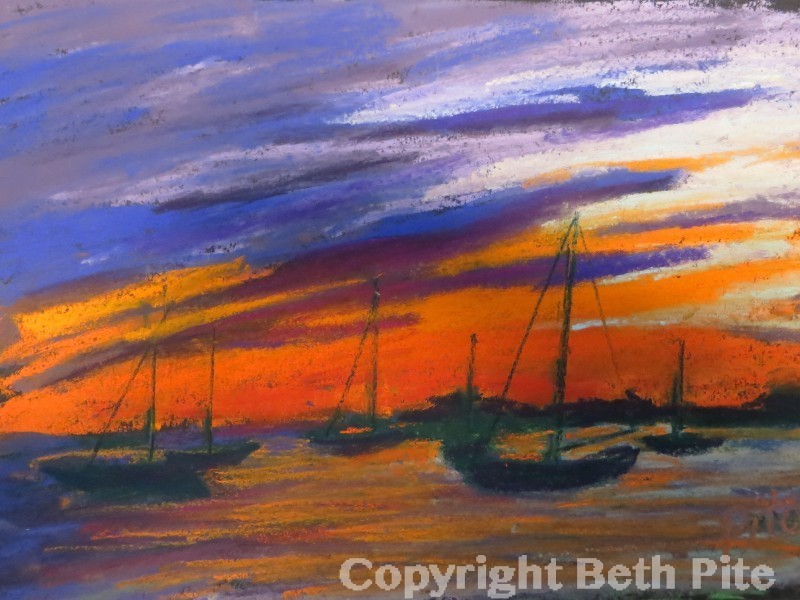 There are several questions people usually ask about my pastel paintings. If the questioner is standing in front of a painting while talking to me, question #1 is "how do you work with pastels?" If not, it's "where can I see your paintings?" They also ask about the scenes depicted, which usually leads to a discussion about travel. Since that is the subject of many of my posts, I'll save that for another time and go with the Cliff Notes version of how and where.
I prefer to work on dark paper, which makes the colors jump, using short marks and long strokes with pastel sticks. Imagine pure color from a paint tube, but without brush, water, or turpentine, because pastels are dry. They are not chalk, but are ground-up pigment with a tiny bit of binder to make the sticks hold together. I paint with those sticks of color directly on a roughly textured or sanded paper. The texture picks up the pastel crystals, refracts light and lets me layer colors, with each sparkling through the other. The colors will stay vibrant as long as they're not blended too much, or rubbed so much that the surface loses its texture, which can turn into a muddy looking mess.
My frequent collectors come to my studio, or buy via exhibit postcards and email, but others often had to wait until I had an exhibit scheduled. Viewing online doesn't quite do the paintings justice, because I use colorful wooden frames that pick up a color in the painting. Now I've remedied the situation, so people have several options for seeing my paintings at their convenience, in three different parts of the state.
If you're in the New Haven area, check out http://www.pamelahirth.com/ where you'll find scenes of the Thimble Islands, New York and Italy. Near Mystic or the casinos, see my shoreline and still life paintings at http://www.seasonalhomeshop.com/ My newest venue will be http://www.stackpolemooretryon.com/ in Hartford, with an exhibit that offers France, Hartford and the sea. Join us at our opening event on Thursday, June 23, from 5:00-7:30, to benefit the Greater Hartford Festival of Jazz.