Making It Visible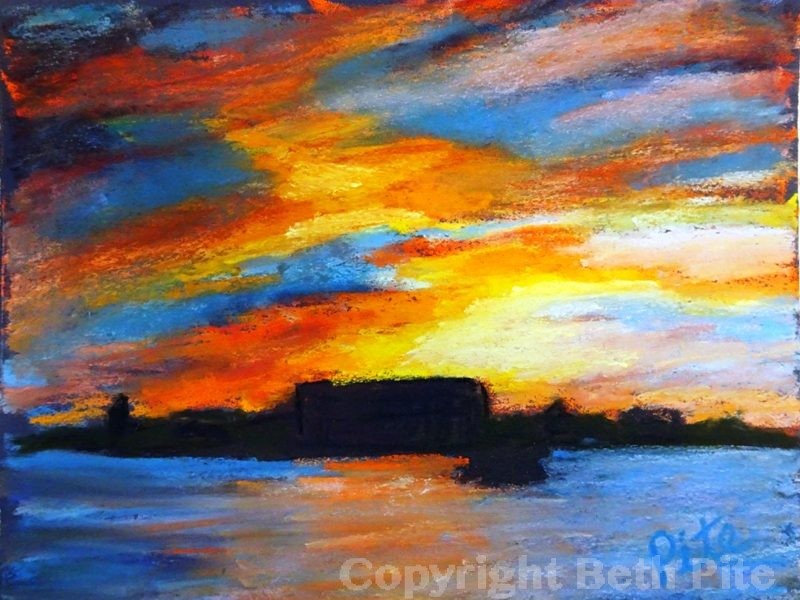 Art does not reproduce the visible, it makes visible. When my husband and I were dating, he gave me that quote from artist Paul Klee to hang on my wall because I am adamant about not trying to copy from my photographs when I paint.
The fact is that our eyes can discern much more color than a camera can, more nuances and variations. Besides, I want to show how it felt to be there, not merely document a scene. My goal is to make visible the energy and excitement I experienced in a particular time and place. Why else would I expend the effort to paint it? And why else would it interest my collectors?
This painting is a good example. Like many friends and neighbors, I have photographed the spectacular sunsets we enjoy in Connecticut. Whether shimmering on the water, or reflecting off our interesting architecture, our sunsets are frequently breath-taking. Yet it is a rare photo indeed that adequately captures the thrill of being there. Pastel painting, on the other hand, is ideally suited to sharing exciting, vibrant, colorful energy.
I'm lucky to have a studio on the shore, where the colors playing across the water at sunset are impossibly beautiful. This painting captures some of the majesty of that experience. As I hope you can tell, its real subject, and what truly inspired me, is that incredible energy manifested in color and light. You can see this painting in person at Black Orchid in Stonington, CT, which is hosting an opening reception for my summer exhibit this Saturday evening.