Miss Traveling?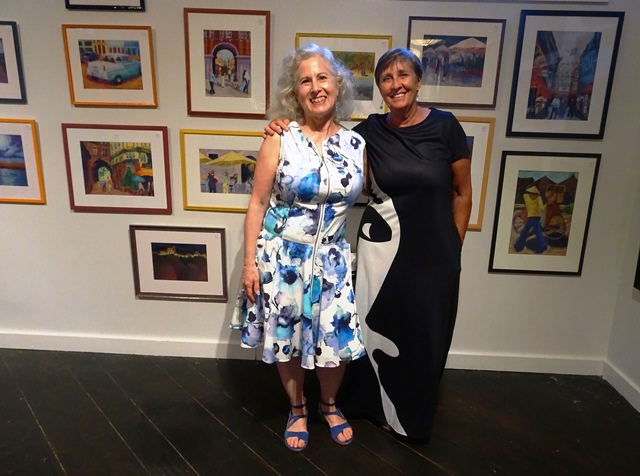 Until we can travel widely and safely again, many of us have had to be satisfied with memories of Europe, Asia and Latin America. My current exhibit, at The Space Gallery in charming Chester, CT, recognizes this and is, for now, a great substitute for the real thing. It runs through the end of the month, so check it out and enjoy a great meal while you're in town!
The show includes old favorites from Bali, Paris, Madrid, Quebec, Barcelona and Havana, along with new paintings of northern France, Greece and  southern Spain, created during the pandemic. Can you say vicarious travel? LOL My collectors seem to feel the same, purchasing paintings that bring back fond memories.
The same holds true for Sarah, the gallery owner who selected the travel exhibit and hosted a great reception. It was her first art opening in a new space, and my first one post-pandemic. To say we didn't know what to expect would be quite an understatement. As you can see in the photo, by the end of the evening we were very happy campers.
We were thrilled with the large number of attendees, especially given the wild storm that raged through the state earlier in the day. When the late afternoon shaped up as absolutely gorgeous, many guests escaped minor floods and power losses to attend.  The 60+ people who came included friends not seen in months, or even years. Socializing normally again took some getting used to, but was wonderful. Thanks to all, and here's hoping for real travel again soon!