Not My Nice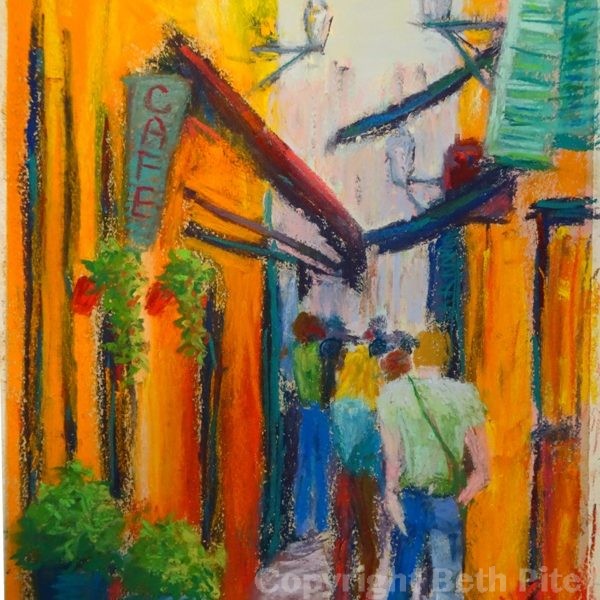 Sane people were horrified by the recent carnage in Nice, when a murderer deliberately drove a truck through a crowd. My mental image of the French Riviera city of Nice, and specifically of the Promenade des Anglais, is far more pleasant. Completing some paintings of southern France became art therapy for me, helping to erase the news stories from my mind.
In Nice, we strolled along the promenade and marveled at the colorful rows of beach umbrellas. We dressed up for celebratory drinks in the landmark Hotel Negresco, and spent peaceful evenings watching the sun set over the Mediterranean. We had a memorably frustrating adventure trying to catch a bus to a mountain town, and enjoyed a birthday dinner outdoors, at a restaurant overlooking a harbor full of mega-yachts.
Amazing as Nice's harbor was, it paled by comparison to that of Antibes, a short train ride away. Everything there is geared to yacht owners and crews. Wine shops advertise delivery to boats. Florists promote classes in "flower arranging for the salon of your yacht." Print shops offer monogramming of crew uniforms. It was quite funny, as we were actually there to see the Picasso Museum. This trip involved pilgrimages to Cezanne's home, Van Gogh's Arles and St. Remy, and Matisse's studio, all fodder for posts and paintings.
This particular painting is of Vieux Nice, the old part of town. It is distinguished by twisting alleys crowded with people, narrow doorways, funky shops and cafes where tables rest precariously on cobblestones. The constant sunshine often didn't make it into the narrow streets, even though it lit and washed out buildings in the distance. Colorful energy and the urge to take off down a particularly intriguing alley are what I tried to convey.