Practicing Patience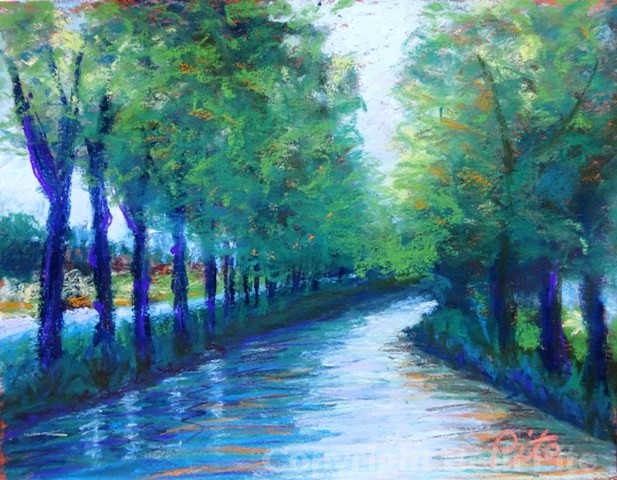 Patience is most assuredly not my strong suit. Clients who are glad I accomplish tasks quickly describe me as goal oriented. A friend pleased with my pushing for action termed me "a force" and asked me to join his board of directors. I can guess what people who fail to meet promises or deadlines call me, LOL. Anyway, I'll admit to having all the patience of any self-respecting two year old. Having read the literature, I know that impatience and the related stress are unhealthy, so I'm trying harder to stay calm.
A recent day presented a challenge as it started to rain when I was driving to my framer – and you definitely don't want unframed pastel paintings getting wet! Then a friendly geezer at my preferred gas station – where they pump it and I avoid lingering odors on my hands – accidentally hit a button charging me $3000 instead of $30. It took him about 15 minutes to unravel that, which is longer than it sounds if you're sitting in your car, waiting uselessly.
Technology frequently challenges my resolve – my printer will work for weeks, stop for no apparent reason, then start again a few days later. Bad drivers are another dependable source of frustration. During the holiday season people seem to forget what merge means and which highway lane is the slow one. My goal is no swearing, shouting or gesturing, even in the confines of my own car. I've broken my rule a few times, but am nothing if not determined, and WILL become more patient.
A canal cruise in France this year was a far less active vacation than my usual, and thus an exercise in extreme patience. With hours spent sitting on hard plastic, watching pretty vineyards go by, and waiting our turn at locks, my resolve was sorely tested. Frequent readers of this blog will recall some of the challenging aspects of that trip, but I did get great photos and have started to paint from them. Here's a new painting that represents the more peaceful, patient aspects of the Canal du Midi.