Road to Roussillon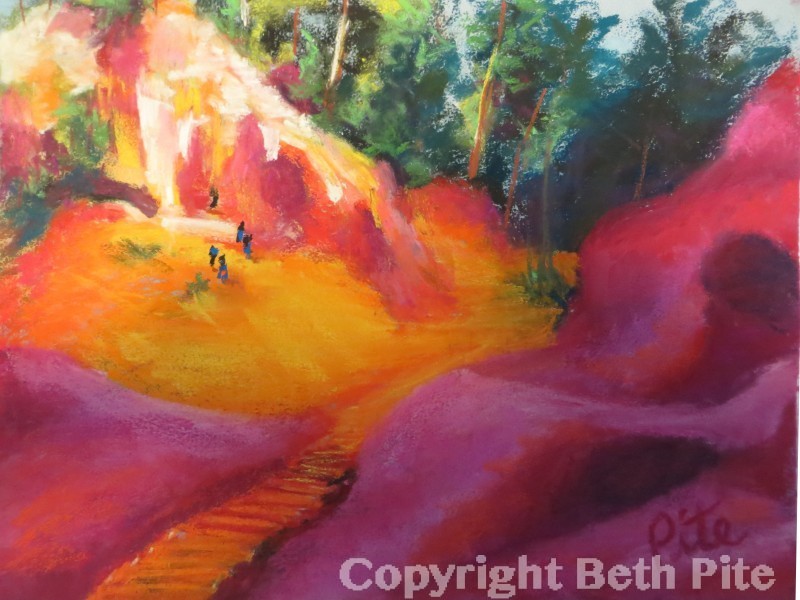 The medieval hill town of Roussillon, in Provence, was known as a major production center for ochre, a pigment used in paints, dyes and pastels. Of course I was thrilled to visit a factory museum there to learn about – and see the old equipment used for – the production of pastels.
What I didn't anticipate was the challenging ride to get there, with hairpin turns through the narrow mountain passes of France's Luberon region. Fantasies of baguette and cheese picnics by the side of the road, overlooking vineyards and olive groves, vanished as reality dawned… there was no side of the road! Nor were there guardrails. If the side of the road wasn't a cliff, or a mountain, it was often a deep drainage ditch for those scenic fields.
Suffice it to say I was thrilled to reach Roussillon in one piece. We arrived at the end of the day, which made it all worthwhile. The village carved into the mountain top and its famous ochre cliffs glowed as the sun started to sink, creating ridiculously colorful panoramas. Brilliant crimson, gold, peach, fuchsia and orange walls towered over people climbing paths through the cliff in a surrealistic landscape.
This work in progress shows those ochre cliffs. While the overall composition comes largely from one photo, I was working from four of them. Particular details came from a different photo, while color reminders came from two more. I started with a small sketch to determine the composition and then moved to the actual painting, which I am still refining.
I will probably start several more paintings in the France series before coming back to finish this one. My paintings sit in my studio a couple of weeks, or a couple of months, while I walk by numerous times and maybe sit to study them, waiting for things to jump out that might need fixing. Once the issues become clear to me, it's usually easy to finish it quickly when I do go back to it.