Step Three, Finally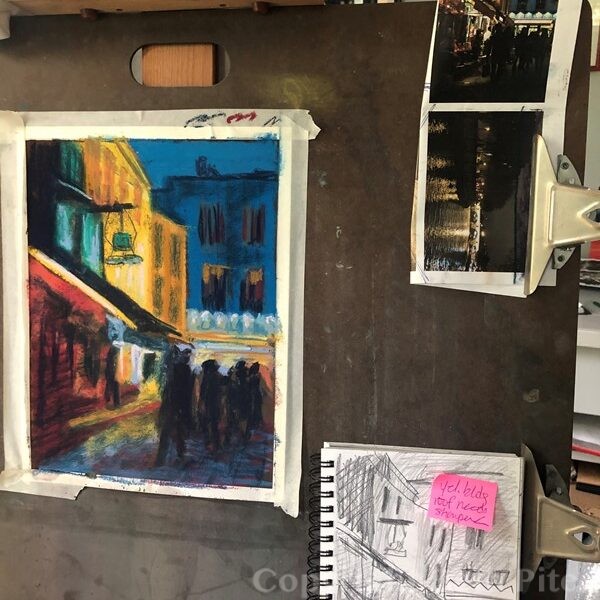 It's been a challenging year and my energy for painting was in short supply, so I was thrilled when the urge hit me, strongly, this month. Here's how it goes. First I sort through my photos thinking about what to paint. Next I have a phase where I try a few thumbnail sketches to test out compositions. Only then do I actually pick up my pastels.
So there I was, stuck at step two, for weeks. Lots of photos sitting on the counter in my studio, several thumbnails alongside them, and nothing on my easel. Until inspiration finally struck and I decided to paint Paris. Montmartre, to be specific. 
Maybe it was the book I read recently about Parisian neighborhoods and how the women dress, shop and live in each? I'm apparently a Montmartre gal. Or maybe it's because of its history as an artsy area. Or it could be simply that it's a magical arrondissement where I've had some unusual experiences. Once an impromptu parade came downhill on a narrow cobblestone street, straight at me. Another time we stumbled across a food festival and discovered aligot, an addictive concoction of mashed potato, garlic and cheese. Served, by a tiny girl stirring with a wooden spoon twice her size, from a huge caldron.
In any case, I was raring to go and got the painting roughed in very quickly. You can see that stage here, with my reference photos, thumbnail and notes. Now I'm lingering over it, fine-tuning details, fixing perspective lines, and identifying potential problems. I'm trying to decide what to emphasize, what to clarify or leave vague, before determining if it's actually finished.