Stretching the Creative Muscle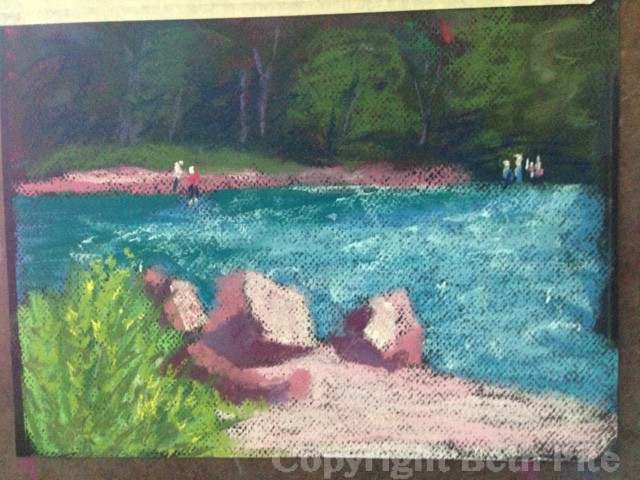 People often ask how I create my paintings. Usually I take dozens of photos to soak up a feeling for a place and help me notice details. Then I work from multiple photos when I'm back in my studio, not copying one, but trying to remember and to show how it felt to be there. Every once in a while, though, it seems important to get out of my comfort zone, stretch my creative muscle, and try another approach. So the other day I went painting with a friend "en plein air."
The French term simply means we were painting outside, using the scenery in front of us. While many artists love it, I don't. My idea of fun is not being subject to sunburn, bug bites, lack of restrooms and passers-by commenting how their kids like to draw with chalk. (My thought bubble: "It's NOT chalk! These soft pastels I'm painting with are compressed sticks of pure, vibrant pigments, with no chalk in them." My actual reply: "Really? It's nice they enjoy making art.")
Anyhow, we were en plein air. I'm lucky enough to have a studio near the water with gorgeous scenery readily available, so the real challenge was focus. It's much easier for me to compose a painting with the camera lens than when looking at a 180+ degree panorama – with boats sailing by! I did make a good start on a couple of paintings, including this one of Bluff Point State Park. As you can see in this photo from my phone, it still needs work, but I was happy with the rocks and the people on the far shore.