A Room of One's Own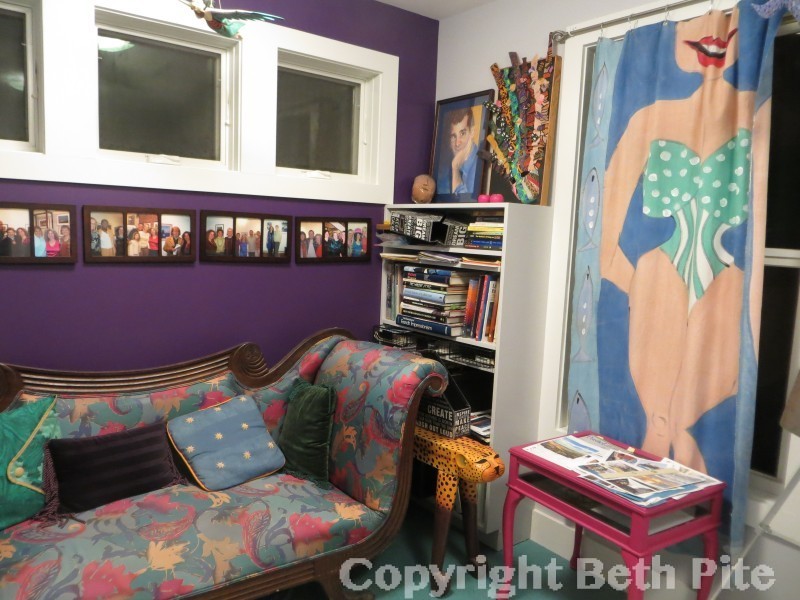 Air travel offers hideous food, ache-inducing seats, bad air directed at your head, and people who don't cover their mouths for sneezes and coughs. We braved it all for wonderful Thanksgiving visits in CA, returning with airplane-caught colds just as the holiday season kicked into gear. Missing a few events to spare friends, I finally attended a holiday luncheon with some fascinating, accomplished women.
Among the business owners and professors were part time poets and painters, so we started comparing notes on our private creative spaces. With a nod to Virginia Woolf, it appears a room of one's own is doubly important during festive times. Holiday celebrations and entertaining are wonderful and, for some introverted creative types, also exhausting. Having a quiet, cozy place to sit, to think and to create is the key to recharging.
I'm lucky to have a small studio space that nourishes my creativity. North windows on a wall painted my favorite purple let in good painting light. Other windows, required by zoning, are covered in curtains that make me laugh. Art by friends and by me is on the walls, along with photos from my exhibit receptions. Several shelves hold art books that inspire me. A beat-up, brightly upholstered antique sofa that nobody else loves is my perch for contemplating next steps as I stare at paintings taped to my easel or walls.
This photo shows my spot for thinking about painting. The challenge will be making time this month to go into my studio, and sit, and ponder, and paint. I have four or five paintings that need just a little something to be finished. A block of quiet time would do the trick.