Balconies Fall Down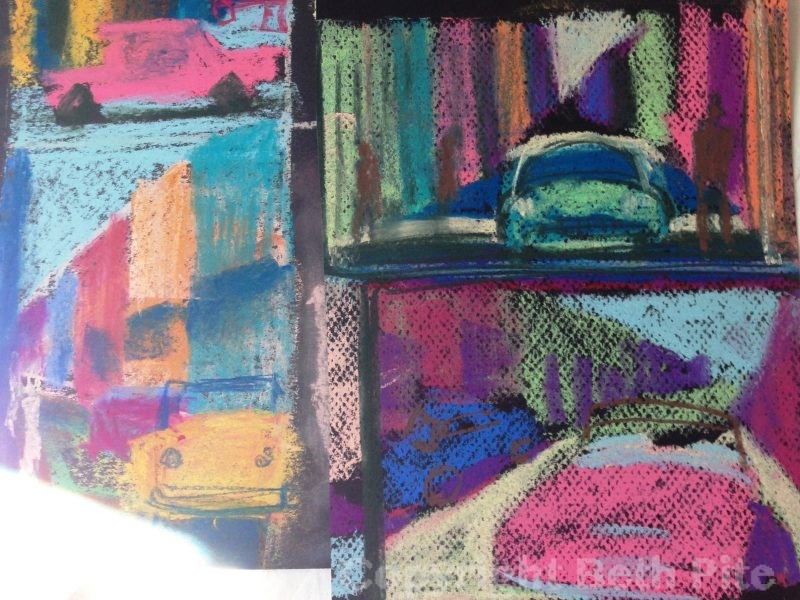 Color, cars, Cuba! I recently spent a long weekend in Havana, satisfying an urge that's been itching me for years. My hope was to immerse myself in a colorful, energizing place that would inspire a new series of paintings, and it did.
What an experience! Nothing really adequately prepared me, though I read guide books and talked to a dozen friends who'd been. We opted against a tour group – too many people, too many days, too expensive, and, mostly, too structured. Cuba's limited internet made research and reservations difficult, so we finally gave in and got help, but agreed to have a guide for just half our visit, to preserve flexibility. We prefer to wander for hours, stopping for a bite or a cool drink when the mood strikes. All of which proved challenging!
While meals exceeded expectations – lots of fresh fruit and fish – we might have starved without our guide. She and our driver were, despite their college degrees, working in tourism for better opportunities. The new private restaurants are hard to find, often sign-less, and up steep, narrow stairs in buildings that were uninviting, to put it mildly. We were amazed at Havana's appalling infrastructure. Even in good neighborhoods, intact sidewalks and working elevators were in short supply. Everything was gorgeous – as long as you didn't look too closely to see that it was all crumbling and peeling.
We also experienced a day and night of torrential downpours. Our guide warned us to be careful where we walked on our own, because "sometimes after a rain the balconies fall down." Colorful indeed. I took hundreds of photos, mostly fabulous architecture and cars, to serve as reference photos for paintings. Here are thumbnail sketches of images, a process I use to determine which ones might turn into paintings.