Creation vs. Destruction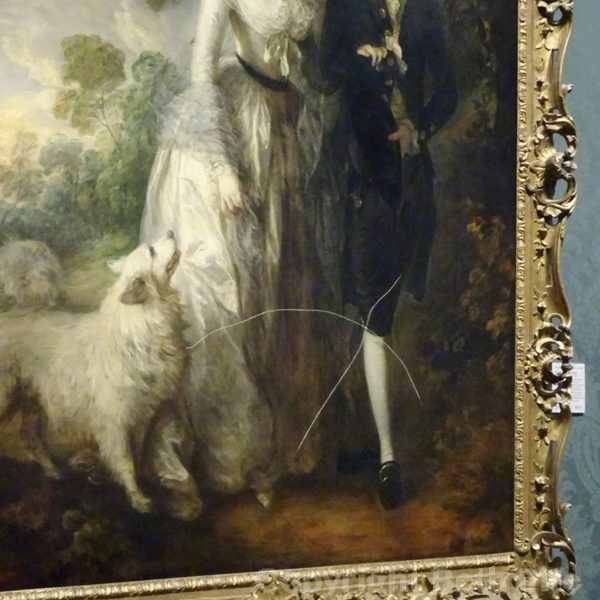 Witnessing the recent bizarre attack on a multimillion dollar Gainsborough painting in London's National Gallery has haunted my thoughts. You may have missed the story, as it was overshadowed a few days later by the terrorist attack down the street, near Parliament. My first inkling was the shouting, though my husband insists he heard a slashing sound.
A few yards across the room, a brave visitor had the attacker in a bear hug. A security guard quickly came to his aid and hustled the slasher to a corner as confused patrons milled around. The offender insisted "the Royal Family made me do it! I'm a suicide bomber and I'm going to pull the string!" The more he repeated it, the more certain I became of my first impression – a mentally ill, homeless man. We joined the orderly exit to the next gallery, but my curiosity kicked in.
As a former museum marketing director who consults to art and history organizations, I wondered about their protocol. Why weren't other guards rushing in? Why no announcement? Why no art handlers cordoning off the painting? Inching back in for photographs earned the (rightful) anger of my husband, who pointed out I couldn't know he wasn't a suicide bomber. We tried to find another route to the galleries we had intended to see, failed, returned, found patrons being herded out, and went downstairs, where we asked a guard how long it might be until they reopened the gallery. He had no idea what I was talking about, and it was clear he was receiving the news in his earpiece as we spoke – after at least ten minutes. Same with another guard five minutes later, outside the exit. We never heard an announcement, but learned they closed an entire wing of the museum.
I'm still astonished at the slow communications, apparent lack of a plan, and the attack itself. How did he get a screwdriver through security? And why? Did he hate that painting? Just want to destroy something? That's especially hard to for me to fathom, as I love creating almost anything. From working with graphic designers, architects or dressmakers, to developing new models for neighborhood organizations, leadership training or regional arts, there is little I enjoy more than inventing things. I'm the queen of start-ups and turn-arounds, who also loves art and painting. That's why this struck me as more sad than scary, to want to destroy beauty rather than create it.