Cruising Canal du Midi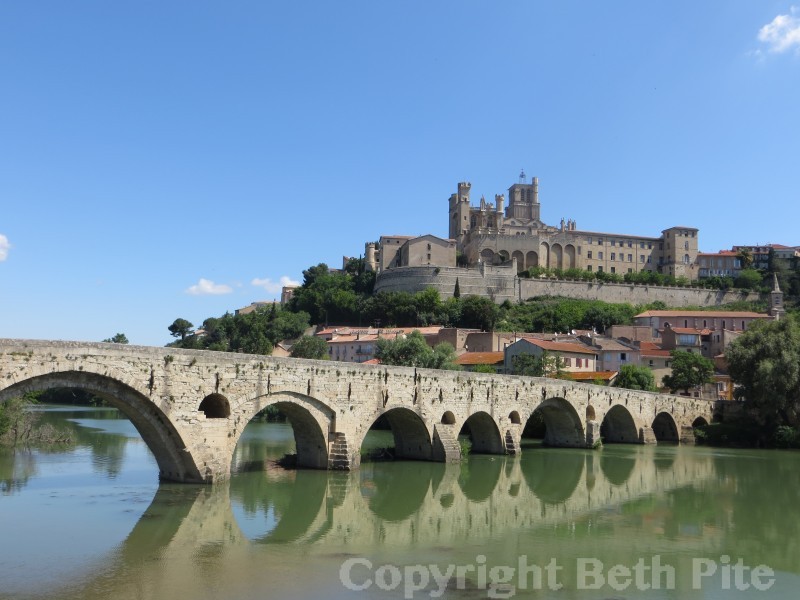 The Canal du Midi, a UNESCO World Heritage site, crosses southern France to connect the Atlantic Ocean with the Mediterranean Sea. Commissioned by Louis XIV, it is an amazing engineering and architectural feat comprising 300+ year old stone bridges and locks. The small villages alongside it are pretty, the baguettes were fresh, and I got hundreds of photos to paint from.
Miles of vineyards are edged by thousands of plane trees, providing much needed shade. Many trees have been cut down due to disease, though, and a replanting program is underway. While I'd carefully ascertained that the rental boat had a bimini for shade, we learned upon arrival that we weren't allowed to use it while moving. The ancient bridges have no head room. We had to duck as we went under them, so I went through an entire bottle of sunscreen to avoid burning. The bridges are one way, often with less than a foot of room on either side of the boat. Cruisers heading down the canal have the right of way, and we were headed up, so we spent a fair amount of time waiting our turn in the hot sun.
Besides sunburn worries there were insect bites, whatever was on the floor in marina showers and whatever was in the canal water, splashing on us as we worked the ropes to get through the locks. Suffice it to say that the toilets of hundreds of boats plying the canal empty directly into it. Every woman I've told has reacted with "ew!" or "yuck!" Men tend to say, "yeah, it's a boat" or "it's like camping." Perhaps canal cruising is a Three Stooges type of acid test of the gender divide?
Maneuvering through locks involved lots more waiting, followed by several minutes of panic, adrenalin and hot, dirty work. Jumping on and off to fasten the boat to bollards on shore is not in my skill set, given the possibility of falling into the unspeakable canal water. And steering in the tight quarters of the locks, with people shouting in multiple languages, wasn't for me. So I became the stern line expert, holding the boat fast as water poured into the locks by the ton and trying not to think about getting caught between the lock's 12 foot stone wall and an 8 ton boat. There were moments, though, that made it worthwhile, like this photo I captured in Bezier.