Deadlines Work Wonders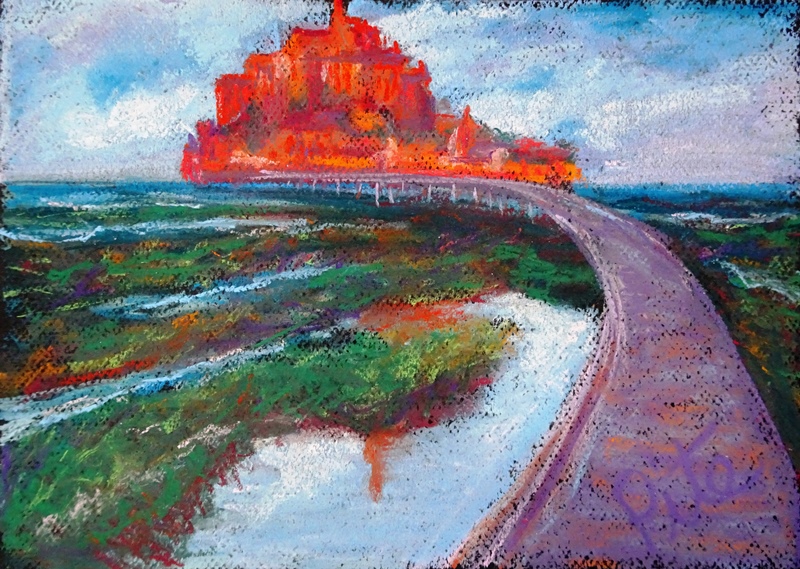 For two months, I'd been thinking about a painting of Mont St. Michel. Our visit there last fall was inspiring. And funny, and challenging, but that comes later. First came the monumental presence out in the bay, the threatening skies, the deceptive marshes surrounding and protecting it from those foolish enough to attempt the crossing.
My planning was done – dozens of photos reviewed, several printed for reference, a couple of thumbnail sketches to help me choose a composition… All sat in my studio, ignored, while holiday festivities swirled around us. Then came crunch time. I knew I'd be traveling on and off for a few weeks, and wouldn't get back into my studio. To be trite, it was now or (not quite) never.
One more review of my photos and thumbnails strengthened my intention. This painting wouldn't be about the Mont's quaint medieval town, or the gorgeous cathedral and its cloisters. This was about its history, its remote location, the changeable weather that made it even more forbidding – in short, the legend. I wanted that ominous feeling surrounding the Mont, showing its majesty. I had only a few hours, but wanted to at least begin capturing that sensation.
Next time I might portray the cathedral itself, where we watched a monk ring the noon bells.  Or the twisty medieval streets, with a funny story about trying to find our way down from the peak. (After numerous dead ends, we finally squeezed sideways down a narrow space we later learned was called Cuckold's Alley.) This painting, though, was about honoring the Mont itself, and I hope this work portrays the sense of awe I felt in approaching it.