Feeling the Love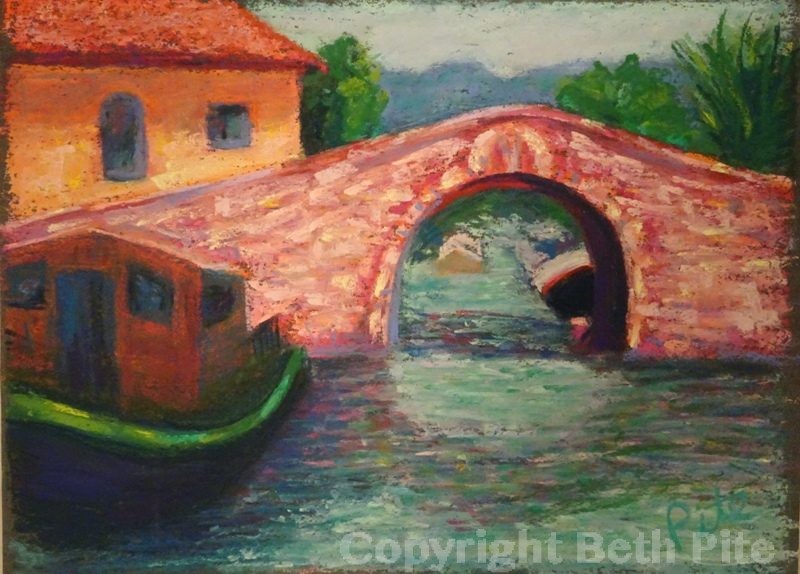 It's always a wonderful feeling when my paintings find good homes, but sometimes the situation is extra special. A collector might tell me the piece is for a birthday or anniversary present, or it reminds them of a favorite vacation. A situation with a recent seascape was one such case.
Our former neighbor became close friends with the couple who bought our home. That couple then helped her through a terrible time when the neighbor's husband died. The widow contacted me to buy the painting as a thank you gift when she learned her neighbor wanted it. The problem: her neighbor, a collector of my work, had already contacted me about purchasing it. As I waited for the widow to make arrangements I stalled my collector, wanting neither to be rude nor to ruin a surprise. The widow arranged a get together and we presented her neighbor with the painting – such a meaningful gesture.
It reminded me of a similar situation, years ago. Friends saw a painting of Spain at an exhibit, and each half of the couple wanted to buy it as a surprise for the other! I hemmed and hawed with the woman, as the man had claimed it first. I'd like to think this mutual understanding of each others' desires helped lead to their marriage! In any case, they have become avid collectors of my work. This image is their most recent addition, a painting of southern France.
The lesson, I guess: if it moves you, buy it and spread the love! Some of you have admired specific paintings, which you obviously can't see at an exhibit right now. Ask me to send you images to jog your memory. If local, you're welcome to do a socially distanced "studio visit," viewing paintings on our deck. Or if you know which painting you want, contact me – I can ship it. While it would be a few days late for Mother's Day, there's always Father's Day, graduation and weddings. Since these events won't happen in the usual way this season, they might warrant the unusual gift of a travel or beach memory.