Finding a Good Home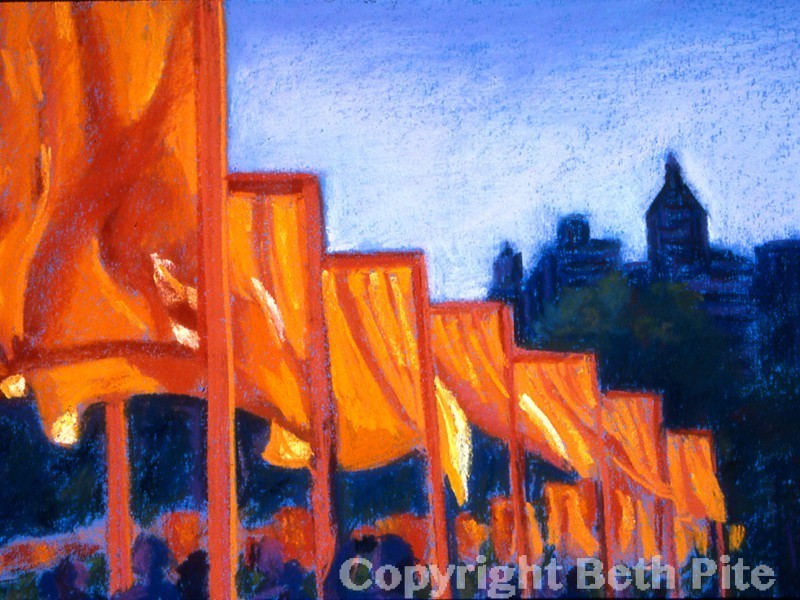 People often ask how I can give up my paintings and whether it feels like giving up a child. Well, never having had that sad experience I can't say for sure, but I'm guessing it's quite a bit less traumatic. In fact, it's a relief when my work goes to a good home, with someone who loves it. Plus that frees up studio storage space for new paintings!
Sometimes the collector says the painting simply calls to them. Other times there's an obvious connection. For example, someone who experienced the magic of The Gates in New York's Central Park will undoubtedly claim this painting or its mate. Many people are serial collectors of my work, while others give my pastel paintings as gifts. Two such occasions stand out in my mind.
Several years ago a couple fell in love with a painting of Spain (and with each other.) Each contacted me separately to surprise the other with the painting as a gift. The story has a happy ending – they are now married and the painting has a place of honor in their home – but there were some awkward moments with their dueling requests for secrecy. Last fall a painting was purchased as a 70th birthday present for parents who have a particular attachment to Venice. The hitch was that the buyer had to consult with her sisters – one in another state, one in another country – to get agreement this would be their joint gift. I'm excited to report the painting is now at home in Italy!
It's always an honor when the colorful energy of my work inspires others to live with and to share my paintings. Over the years, if I didn't know the collectors I lost track of the panting. Now the internet makes it easier for my website and blog to unite us. If you're one of my collectors, please share the pleasure my paintings have given you, ask questions. and join the conversation.