Purpose, and Portugal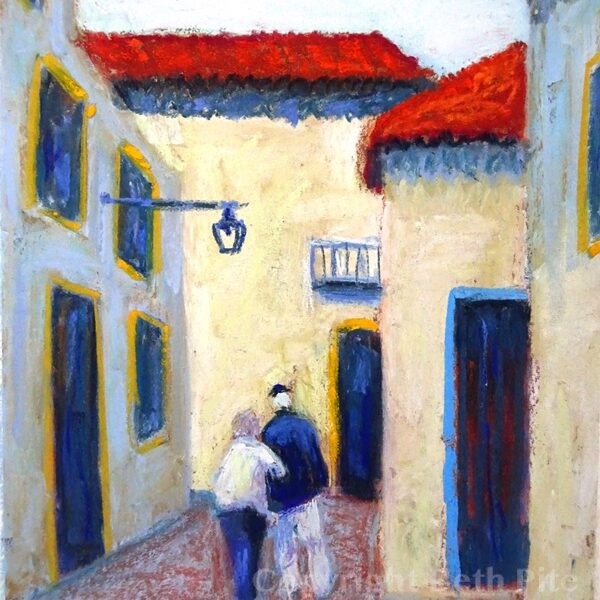 It's been a challenging few weeks, both happy (an adorable and highly energetic seven year old's visit) and sad. The latter included energy-draining, time-consuming rotator cuff muscle tendon tears, memorial events for a friend taken too young, scary health news about two other friends, and a funeral for a favorite aunt, who lived long and well. All told, it's been tough to find the head space to be creative, go into my studio, and paint.
Then a stray comment from a cousin at the funeral re-inspired me. He asked if I was still painting, and said how much he enjoyed seeing my art. This particular cousin lives on the other side of the country and I didn't realize he knew I was an artist, never mind that he followed my work. I was reminded that my art is bringing pleasure to others, whether I know it or not.
This is a large part of my purpose for painting. My goal is to capture what inspired me – the happiness, awe, amusement, or relaxation the scene gave me – and share it with others. I particularly love to paint sunsets over the water (double whammy – who doesn't feel good about one or both of those?) and images from my travels. I want to show what it felt like to be there.
So my cousin's comment inspired me to finish the painting of Evora, Portugal, that I've been working on for a while.  It's a beautiful, walkable town of whitewashed buildings with blue or yellow trim (to scare away the evil eye, or the mosquitos, depending on who you ask.)  The narrow cobblestone streets and human scale make it inviting, and this elderly couple out strolling clearly agreed.