Who's a TV Babe?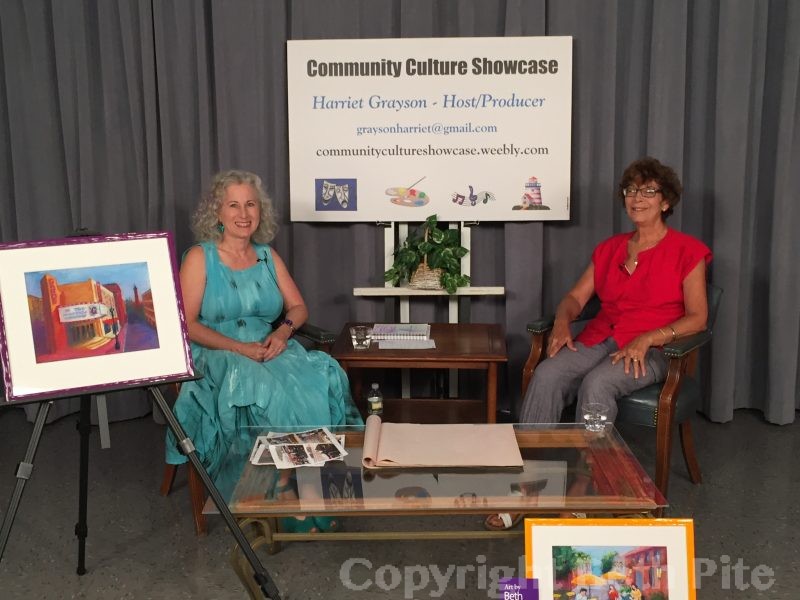 Irony is a wonderful thing, and for those who know me well, the following announcement fits the bill. I'm someone who loves to quote "so many books, so little time" in response to whether I've watched a particular TV show. Therefore, the fact that I was interviewed on TV about my art is beyond ironic.
The potential absurdity is tempered by the fact that the interview is in support of my autumn art exhibit, hosted by a local TV studio which promotes many community organizations – both pluses. The interview was conducted by Harriet Grayson, a friend from my corporate days turned producer and author, who asked about my paintings and my process. Also pluses.
Preparing for the interview was a challenge. Besides the fact that I long ago threw out lots of old makeup which was suddenly needed, the internet helpfully provided many tips on what NOT to wear on TV. It also suggested using extra energy and enthusiasm in gestures and expressions. As you can see here, I did my best. LOL https://www.youtube.com/watch?v=-prRHcGxQQY
Finally, the upcoming art exhibit is an opportunity to support a worthy cause, expose more people to my paintings and include a close friend, Michelle Marra, whose vibrant abstract paintings will be shown with my work. These were all good reasons to bite the bullet and make my TV debut. Please join us for the opening on Thursday, September 22, from 5:30 to 7:30, at SEC-TV in Groton, CT.