Wishing for Warm?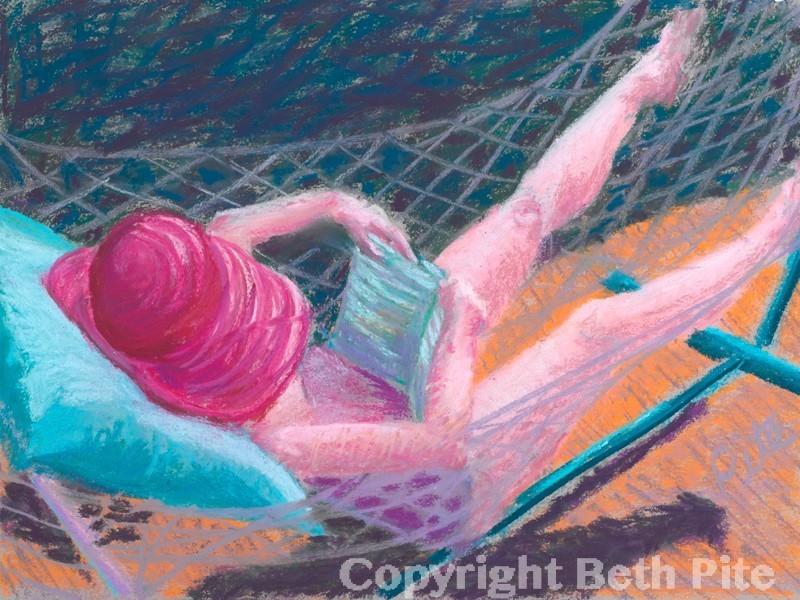 On the muggiest August days I remind myself to enjoy it, because we'll soon have February's cold. Now it's time for vice-versa – winter has its pleasures, too. There's sipping Scotch or a warming Malbec in front of the fire, and enjoying a novel when snowy roads mean no guilt about missing events. Not to mention making stew, eating cookies fresh out of the oven, or whisking up real hot cocoa after the great aerobic workout of shoveling the driveway.
Theoretically, I get lots of uninterrupted time in my studio, too, when the weather provides excuses to stay put. The paintings I seem to want to work on, though, are mostly colorful, sunny scenes. Just this month I finished two paintings of sailboats at sunset, one of a beach at a state park, and another of sun hitting brilliantly colored ochre cliffs in France.
What makes a painting feel warm? Besides the obvious subject matter – boats, beaches, outdoor activities – there's high contrast between different areas of the painting. Dark shadows mean there's lots of light from somewhere! Then there's the choice of colors. My paintings always lean towards warmer, more intense colors. My reds are not dusty, my blues tend towards turquoise, and I often use complementary colors (opposite each other on the color wheel, like purple and yellow) to create vibration and energy. The ability to do this, keeping colors bright, not blended and muddy, is a benefit of painting with pastels. For me, art is about creating and sharing positive energy.
This painting fits the bill. It makes me laugh and think warm thoughts – the perfect thing for winter! To me, a hammock is quintessentially summer. Of course, my paintings of outdoor concerts, wine tastings and sailboats evoke summer quite readily, too. As do the many colorful markets, cafes and street fairs from my travels. If you're feeling the need for some warmth, check out my brightest images to comment on or claim your favorites.