Gorgeous Groton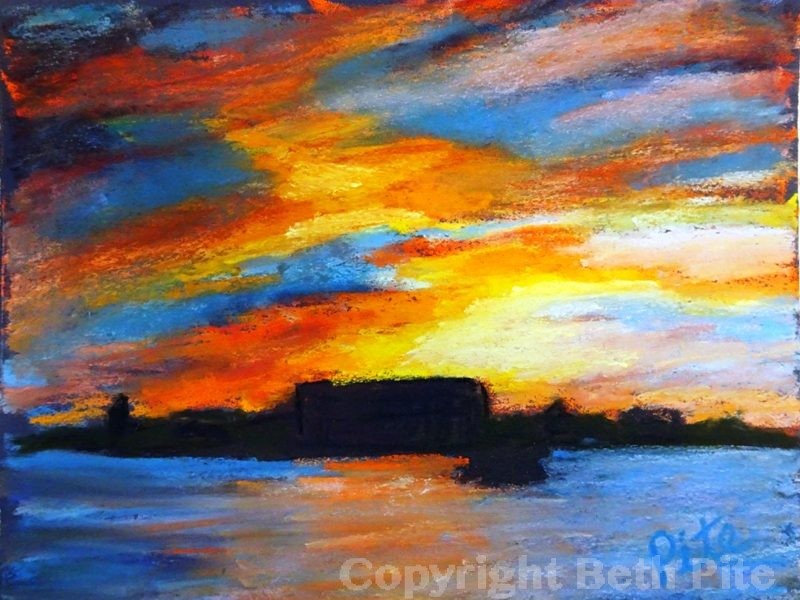 My exhibit at the local library includes limited edition prints and a group of my travel photos, works I hadn't exhibited in quite a while. I enjoyed seeing Mexico, Bali and Miami's Art Deco district again – vicarious traveling during a pandemic. The show was well-received and I was asked to extend it, which I did. Evidently, my colorful work has a positive effect on people other than me and my collectors!
Now I've been asked to extend the show for the month of November, and to mix in different pieces. I decided to switch out everything – so see the photos now, while you can! Next up will be paintings that demonstate my love for this beautiful area where we're lucky enough to live. The updated exhibit, Gorgeous Groton, will feature sunsets over the water, Bluff Point State Park, sailboats and more.
Some might be surprised that a few standard scenes are missing, such as the Revolutionary War fort and monument, or Noank's lobster shacks, or the Mystic drawbridge. Yes, I've painted it, and yes, Mystic and Noank are indeed beautiful parts of Groton. My focus, though, is the everyday beauty in less touristy spots.
How lucky, to be able to sit on my deck and watch a light show as the sun sets over the water and hits the masts of dozens of boats. I feel quite fortunate, and still have to pinch myself. This often inspires me to paint what I'm seeing, and how it felt – like this scene, which will be on view starting November 3.