Lamp Posts, Arches and Umbrellas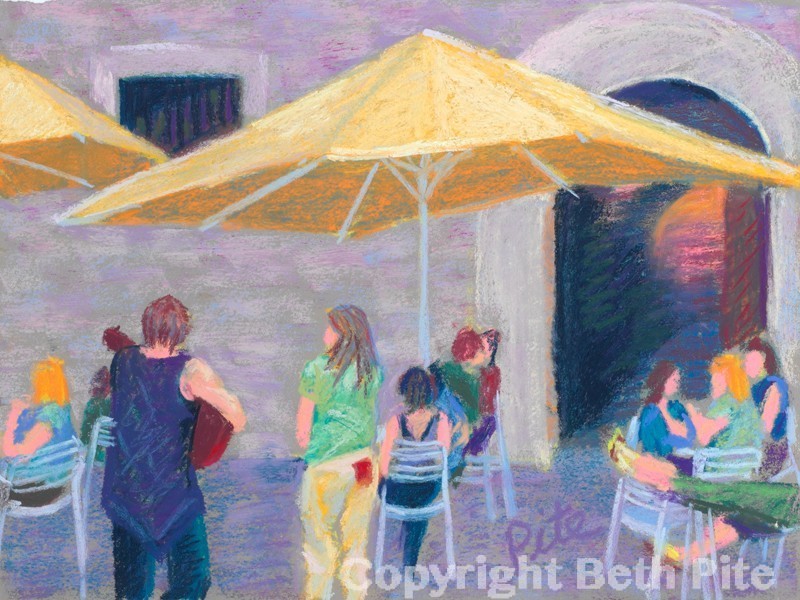 Many people have commented on my use of vivid color, and a very observant few have also noticed certain elements that show up regularly in my paintings. Besides city scenes and street fairs (the energy!) and sunsets over water (the colorful energy!) I seem to have a bias for interesting architectural elements. These include impressive arched doorways, ornate wrought iron lamp posts and inviting umbrellas, usually at outdoor cafes.
These things are often found in older cities, particularly in their historic centers, which is where I love to stay. The impressive stone buildings boast huge arched windows and doors, working shutters, balconies, interior courtyards… all manner of fascinating nooks and crannies. From Buenos Aires and New York City, to Barcelona and Venice, these elements grab my eye and show up frequently in subsequent paintings.
While some of my paintings are simply about the architecture, that's usually not the case. After all, I have a camera for that purpose. Instead, I portray the human element in my landscapes, to suggest a story and let viewers insert themselves into the scene. My seascapes tend to feature boats or lighthouses in the setting sun. Even a parked motorcycle or flower pot on a balcony tells a story, with or without people present. My cityscapes often show lively festivals, plazas with ornate lamp posts and cafe tables with umbrellas – all places where I want to be.
This painting of a cafe in Barcelona's old quarter, Barri Gotic, is a perfect example. I loved the arched doorway, making me wonder what was inside. I loved the umbrellas, inviting me to enjoy tapas and wine. And I got a kick out of the couple serenading cafe-goers whether they wanted it or not, working hard for tips in a busy city. While color and energy always draw my eye, a bit of humor helps hold my attention.