Not Mashed Potatoes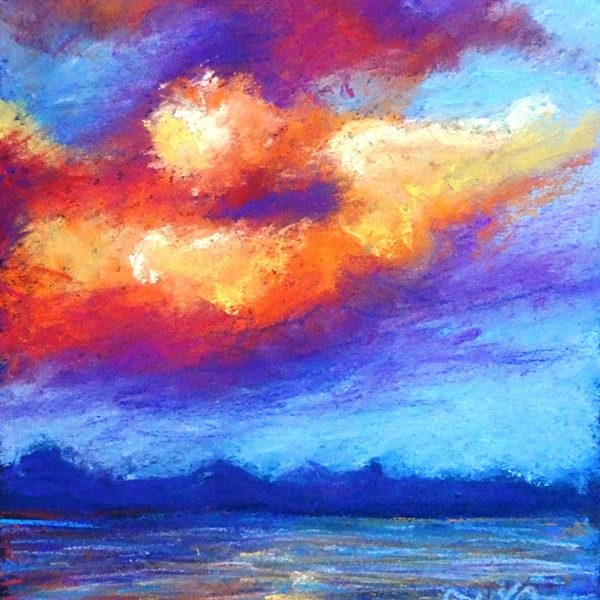 The subjects I feel the urge to paint most often, besides cityscapes from my travels – sadly, not this year – are seascapes, particularly sunsets over the water. Not enjoying plein air (painting on-site) due to sunburn, bugs and intrusive passers-by, I often work from photos taken near my studio on the Connecticut shore.
One problem with working from photos is the tendency to try to copy them. I avoid that by using multiple photos and printing bad copies on cheap paper. The other major issue in painting from reference photos is the camera's tendency to flatten things. The human eye can discern many more nuances of color than a photo can portray.
I compensate for this by pumping up the color and working more intuitively, showing how it felt to be there, rather than what the camera records. However, this can result in a less realistic view, which bothers my "first viewer" (aka husband) quite a bit. His criticisms are often accurate, so I stepped back as I was painting After the Storm.
The sky was indeed that dramatic. The sun poked through just before it set, lighting up huge masses of storm clouds that were moving out rapidly. However, I wanted them to look like clouds, not solid shapes. As I read in an article by a famous pastel painter, "think water vapor, not mashed potatoes." A bit of scumbling one color lightly over another, and softening some edges, did the trick. I hope you enjoy the view, and happy Thanksgiving to all!