Painting Challenges in Portugal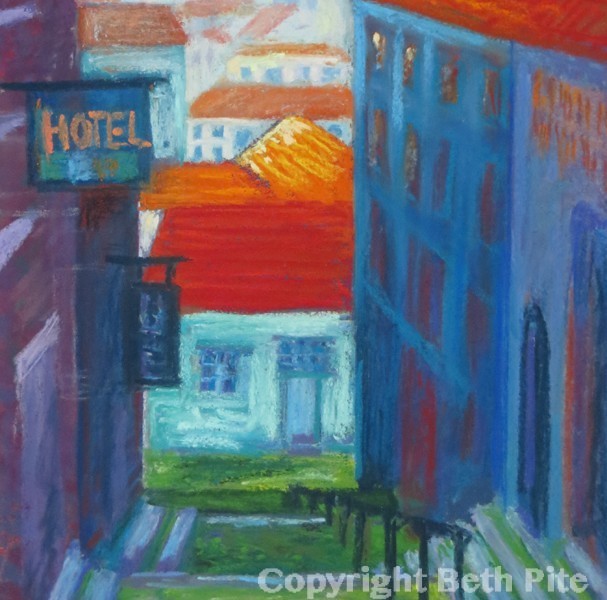 First of all, Portugal actually makes Rome look flat. Once I understood that, the challenges became clear for a dedicated walker who wants to photograph and paint the spectacular views.
Famously built on seven hills, Rome is filled with staircases and winding streets. Its relatively gradual inclines are nothing compared to Portugal's hills, which rise almost straight up. Portuguese cities usually have a quaint, older part of town right near the water, whether on a river or on the ocean, then a dramatic rise – or three.
We actually developed a shorthand description of Portuguese history, applicable to every place we visited. "First, we drove out the Moors. Then we built a fortified castle on the highest hill. Then we built a cathedral on the second highest hill. Then the town evolved down near the water."
Capturing the incredible depth of these Portuguese vistas is the challenge. Beautiful tile roofs as far as the eye can see in one direction, water in the other, and that dizzying sense of height – how to show it? Here is my attempt to portray a view from the top of a hilly neighborhood in Lisbon. You can see it in person all month at Studio M in Mystic, CT, where a reception will be held on Sat., Sept. 19, from 2:30-5:00.