Peripatetic Painter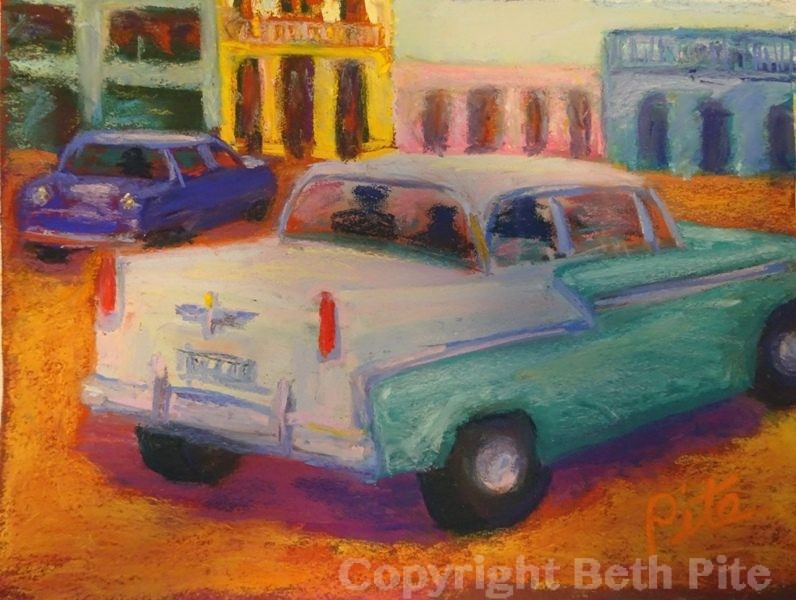 Some people travel to relax on a beach, to try famous restaurants, or to ski and hike. I travel for inspiration. The best trips stimulate both my brain and my creative juices. It seems I need this kind of travel to be able to paint. This past year, we experienced Havana, London and the Greek island of Crete.  (And this month I'm traveling to a new website host because the previous one lost my subscriber list, which I'm trying to recreate. Apologies for any errors or dupes! Please let me know.)
Usually my travel involves new food, art, languages, architecture and customs. Occasionally it involves adventures that become funny stories after we survive them without dying or divorcing. Always, it involves lots of walking and photography, capturing inspiration for later paintings. Guess that makes me somewhat peripatetic, traveling for my work. The photos serve as reference material when I get back to my painting studio.
In Havana, people were delightful, food exceeded expectations, antique cars were amazing and the colorful architecture was stunning.  And crumbling. We survived ankle-twisting holes and doggie doo on the sidewalks, a storm of Biblical proportions that made flooded streets impassable (and cleaned the sidewalks!), a power outage in our apartment building, and elevators with missing floor buttons and hanging wires (that also stopped five inches off the floor.) I got some great paintings out of it, particularly for those who share my passions for architecture and old cars. The one featured here is an example.
In London last spring we found fantastic theater and much excitement, including bomb scares and an art slasher in a museum. A couple of paintings have already come out of our London trip. In the fall, we were in Greece, where most of our time was spent in Crete. Having recovered from being around all the smokers, I'm in the process of sorting through those photos so I can paint ancient mountains, harbors and city walls.