Romance Language Paintings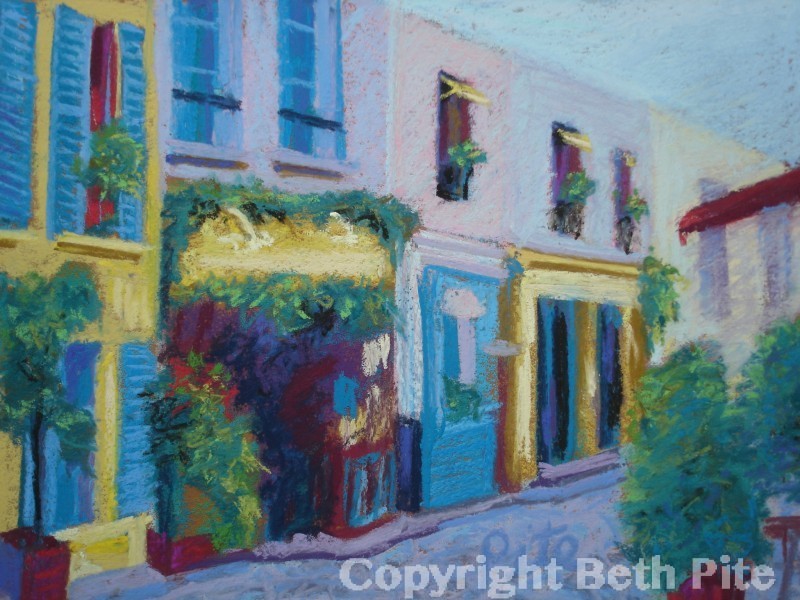 There is something intriguing about the Latin-derived languages. I love traveling to places where they are spoken, like France, Spain, Portugal, Chile, Argentina and Italy. I usually find great food and architecture, friendly people, and inspiration galore for paintings.
Perhaps you share my fascination with the places, sounds and tastes of what are called the romance languages. I try to learn them and often end up amusing my friends, who tease me about speaking Spanish with a French accent. I try recipes from Julia Child and from tapas cookbooks, all of which are too complicated, and make variations on pesto with whatever greens our farm share provides. Mostly, though, my trips to cities like Venice, Buenos Aires, Lisbon, Paris and Barcelona fill me with ideas for paintings.
My travel routine is to walk for hours every day, taking hundreds of photos that serve as reference material when I get back to my studio. Cafes, street fairs, architecture, sunsets, bridges, or markets may catch my eye. Back in my studio, I'll often work from several photos at once for a single painting. One photo might provide information about the shape of a building, another shows me the movement of the people in the street, a third might have a better angle of the bridge over the river.
This approach can confuse anyone who watches me paint. There are often three or four photos taped to my easel, usually poor quality prints on regular copier paper with inaccurate colors and fuzzy details. This is deliberate, because I don't want to be tempted to "copy" what my camera saw. Instead, I just want to be reminded how it felt to be there and to be creative with the movement and colors in my painting. My hope is to share how it felt and what was special about the scene, to get viewers as excited as I was.