Sigh of Relief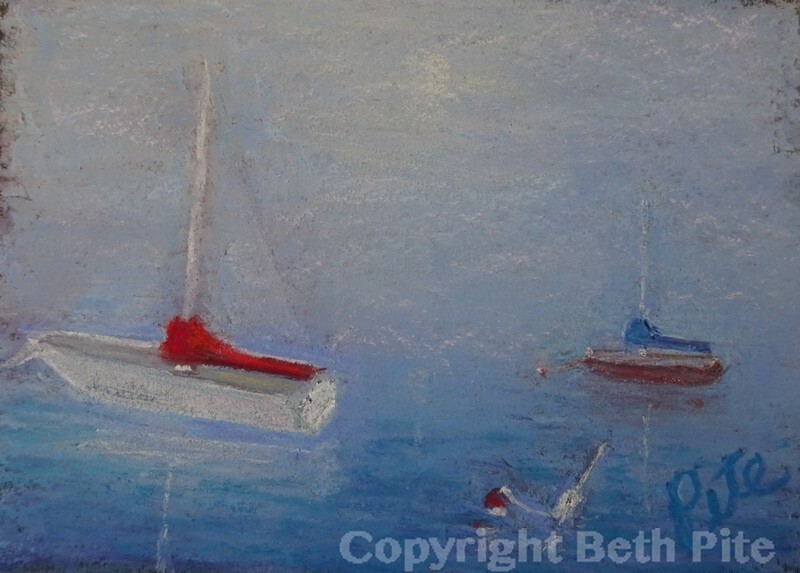 All of us have been caught up lately in the fog of politics, made worse by COVID. After the trauma of a contested election, then the threat of armed mobs disrupting democracy's peaceful transition of power, it's been wonderful to go back to quiet, competent government. It seems like there is finally light at the end of a long, dangerous, pandemic-ridden tunnel.

Being able to see the light, I was moved to finish this painting, started last fall as a dare from two of my collectors. Knowing my usual seascapes are brilliantly colored sunsets reflected in the water, they challenged me to paint a photograph I'd posted of a foggy morning in our harbor. Sky blended into water, visibility was poor, everything was still – a great day to take the sails off the boat, but not an easy thing to paint!

It was a difficult to convey the mood without using gray and dulling my painting. I wanted to show the distant boat, but barely visible. There were slightly lit areas and a few reflections where the sun broke through. I must have reworked this painting a half dozen times, much more than usual. I moved things around, put too much detail in and then scumbled over it, redid the dozen colors in the foggy sky yet again…

With sky and water blurred together, the blue-ish lavendar was broken only by a couple of sail covers. Yet the sun was optimistically trying to peep through. That calm, quiet hopefulness is what moved me to completed this painting. I hope you enjoy it.